BREAKFAST
In Argentina, DESAYUNO is a simple affair based on two key staples: medialunas and facturas, served with coffee and orange juice.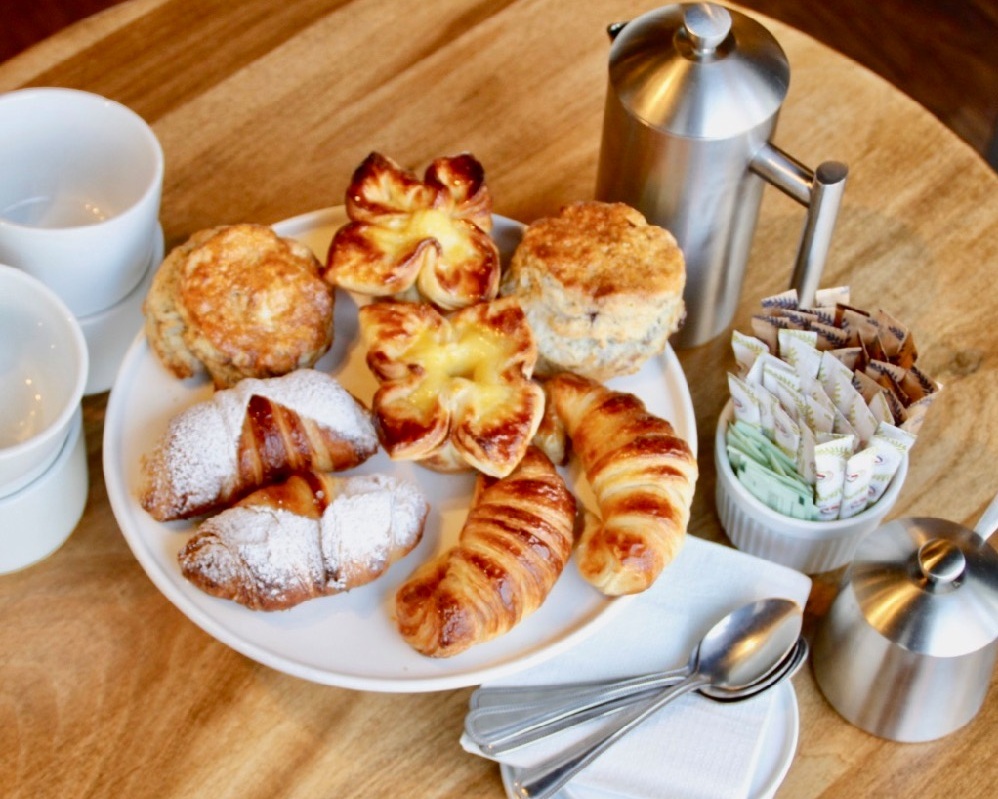 Argentine style breakfast
๏ MEDIALUNAS: Argentine style croissants
๏ MAFALDAS: Medialuna sandwiches with ham & cheese
๏ FACTURAS: Flakey, buttery, Argentine pastries
๏ SCONES: Freshly baked with blueberries
๏ TORTILLA DE PATATAS: Made daily, served à la carte or with a side salad
๏ TORTA DE MANZANA: Freshly baked mini apple cakes
DESAYUNO ARGENTINO
ESPRESSO BAR
๏ AMERICANO: A touch of hot fresh water and a double shot pulled long
๏ ESPRESSO: Single or double shot
๏ CORTADO: Double shot of espresso slightly cut with milk and foam
๏ CAPPUCCINO: Double shot with milk and foam, creamy consistency
๏ CAFE CON LECHE: Double shot with milk and foam, the argentine way
๏ HOT CHOCOLATE
๏ CHAI TEA LATTE
๏ CAFFE MOCHA
tea selection
๏ ASSAM: breakfast blend from Kachibari village in NE India
๏ CANELA: Assam tea leaves with cinnamon from Ceylon… like when I visited my grandma
๏ COCOA CHAI: black tea with sweet spices and roasted cacao bean shells
๏ EARL GREY: a blend of strong black tea and bergamot
๏ JASMINE PEARLS: solely spring-picked, Southern Chinese green tea and fresh jasmine blossoms
๏ RECOLLECTION: yerba mate with lemon verbena and lemongrass
๏ SCARLET GLOW: herbal blend of hibiscus flower, lemon verbena, linden and stevia
๏ STILL: herbal mix of Chamomile, lemongrass and mint
๏ VERDE: fruity aromas, lemon verbena and elderflower, a well-rounded Sencha blend

OTHER DRINKS
๏ ICED
Cold-Brewed Coffee, La Colombe (16oz.)

Tea: black or hibiscus (16oz.)

Lemonade or Frozen Mint Lemonade (seasonal) (16oz.)

Orange Juice 10oz.
๏ HOT
Coffee, La Colombe: Chico (12oz). or Grande (16oz.)

Mate: French press to share (36oz.)

Mate Cebado: enjoy yerba mate like the Argentinians